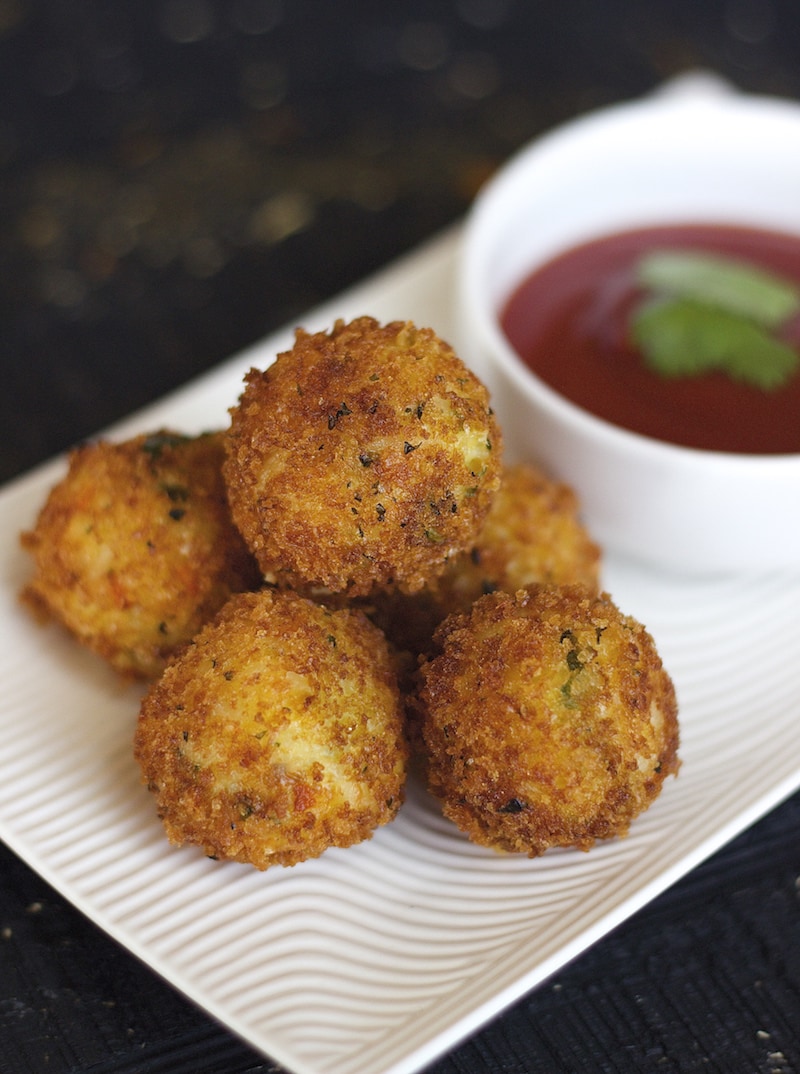 Arancini are Italian rice balls made with risotto. Risotto is Arborio rice (an Italian rice variety) cooked in broth and wine to a creamy consistency. The risotto is mixed with cheese and eggs, stuffed with additional cheese and then coated with bread crumbs and deep fried. It is then served with marinara sauce. The arancini is the inspiration for these rice balls but the difference is that this recipe uses the everyday things we have at home.
Now you have one more recipe to use left over rice in your collection.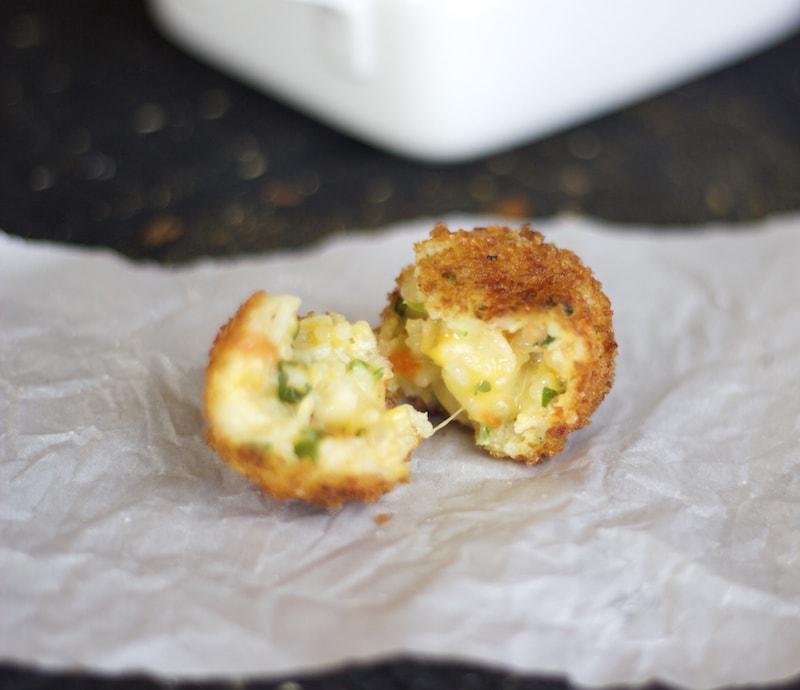 Its crisp on the outside, creamy on the inside with some vibrant colors from the teeny tiny vegetables.
Panko bread crumbs gives it a beautiful and crispy texture.

Cut carrots, onions and green chillies to  very fine chunks. Sauté this in oil till almost cooked. You can skip the vegetables totally if you want.
Add salt as needed and then add cheese and the finely chopped cilantro. Mix it well.

Form it into small tight balls, about an inch in diameter. Try not to make it too big or else it will take longer to cook. Add additional cheese if you have difficulty forming a ball.
Dip the rice balls in beaten egg and coat them in bread crumbs. Arrange them half an inch apart on a tray lined with plastic wrap. Freeze for an hour.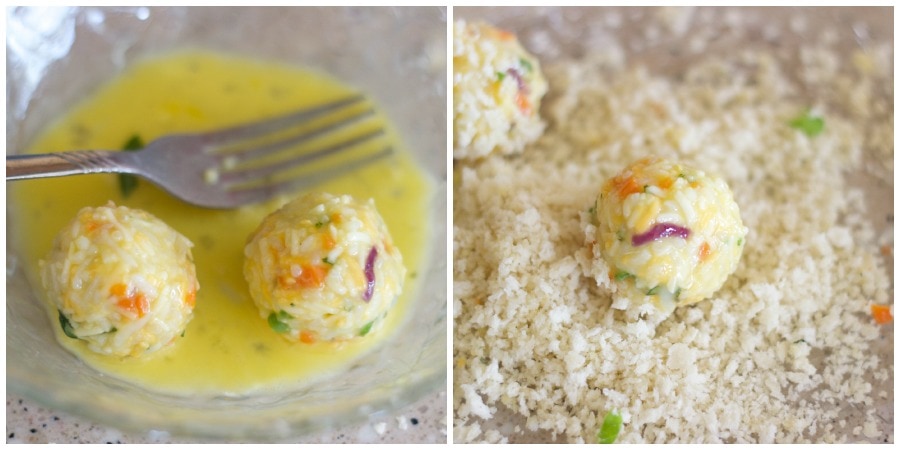 Take the portion you need for frying and transfer the remaining rice balls into freezer safe bag for later use.
Fry on medium heat (350 Degrees Fahrenheit/175 Degrees Celsius) about a minute or two on each side, till the coating is golden brown .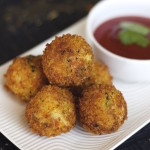 Rice Balls / Arancinis
Please refer notes for substitution
Ingredients
1

cup

cooked rice

1

cup

shredded mozzarella cheese

1/2

cup

parmesan cheese

1/4

cup

Cilantro

finely chopped

2

Eggs

Salt to taste

PREPARING VEGETABLES

2

teaspoons

oil

1/4

cup

carrot

finely chopped

1/4

cup

onions

finely chopped

2

green chillies

finely chopped
Instructions
VEGETABLES (Optional)

Heat oil in a pan and add the vegetables. Sauté until the vegetable is almost cooked. Let it cool.

RICE BALLS

Add the cooked vegetables to the rice. Add salt. Taste and adjust as needed.

Add the cilantro and cheese and mix well. Add one lightly beaten egg and mix again.

Tightly roll the mixture into 1 inch diameter balls. If the mixture doesn't hold, then add some more mozzarella cheese.

Lightly beat another egg and dip the rice balls is it and coat it with bread crumbs.

Place them on a tray lined with plastic wrap with space between then. Transfer into the freezer for an hour.

Heat oil in a pan on medium heat (350 Degrees Fahrenheit/175 Degrees Celsius) and deep fry for about 2 minutes on each side till the coating is golden brown.

Serve with marinara sauce or ketchup.
Recipe Notes
I used leftover basmati rice, but slightly sticky rice is easy to work with.
If you are making rice specifically for rice balls, cook it with chicken or vegetable broth, a tablespoon of wine or rice vinegar and salt for additional flavor.
Adding vegetables is optional. You can also add a small cube of cheese between each rice balls.
Its important to freeze the rice balls before frying or else it could break and the cheese could ooze out and make the oil messy.
You can transfer the frozen rice balls to freezer safe bags and freeze it for later use.
You can also use the cheese you have handy.