Why do I feel like its Monday when I should be happily saying TGIF. I feel Lazy, sleepy and tired. Maybe its the weeks tiredness creeping in or it must be Nivaan's almost non- stop blabbering which kept me awake most of the night. The chatter with his friend, the playground talk and even things like 'mommy, please don't switch of the TV' were few of the things he kept murmuring.  Sleep is something I cannot be deprived of and so today I am a total waste. I wish I can get a coffee right now without me having to get up and make my own.
So my Friends, lets move on to the exciting part now.
Cherries, chocolate and whipped cream frosting  is one of the best combinations around. So, you can never go wrong with Black Forest Cake and Black Forest cupcakes.  Black Forest Cake has always been one of the most popular recipes on FYT. This cupcake is light and airy which will help soak in the syrup well. It also has just enough sweetness which goes well with the sweet whipped cream.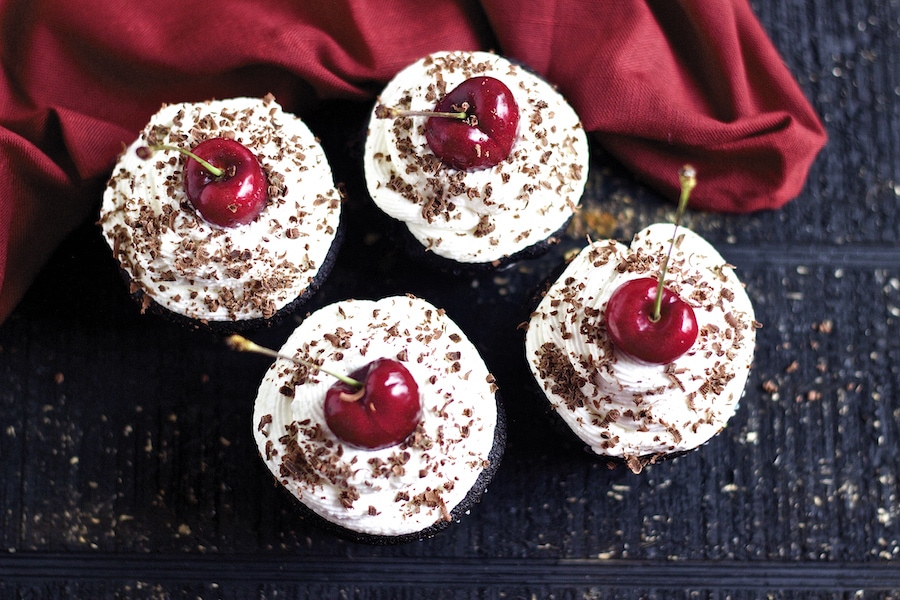 Use fresh or canned cherries. I don't like the taste of maraschino cherries, so  I use the sour pitted cherries in syrup when fresh cherries are not in season.

Take an icing tip or something similar and make a hole in the center. Add the cherry  filling and brush the cupcake with cherry syrup, kirsch or brandy. Frost the cupcake with whipped cream, place cherry on top and sprinkle some chocolate shavings to go along.
I have used gelatin (Vegetarian substitute – agar agar) to stabilize the whipped cream. Although whipped cream is the most airy and favorite frosting around, you know how unstable it can be.
For the filling you can use the cherries in syrup or cherry pie filling.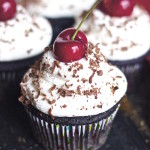 Black Forest Cupcakes
Ingredients
1

and ½ cup

180g all purpose flour/maida

½

cup

50g cocoa powder( I used Hersheys dark)

1

teaspoon

baking soda

1

teaspoon

baking powder

½

teaspoon

salt

8

tablespoons

1 stick(113g) butter

1

and ¼ cup

250g sugar

1

tablespoon

vegetable or canola oil

1

large egg

½

teaspoon

vanilla extract

½

cup

120ml milk

1/2

tablespoon

vinegar

½

cup

120ml hot water

WHIPPED CREAM FROSTING

1

and 1/2 cup heavy whipping cream

1/4

+ 2 tablespoons sugar

2

teaspoon

gelatin

Optional, please refer notes

3

tablespoons

water

FILLING

Cherry pie filling or sour cherries in syrup

kirsch or brandy for brushing

optional
Instructions
Preheat oven to 375 Degrees Fahrenheit or 190 Degrees Celsius.

Whisk together flour + cocoa powder + baking soda + baking powder + salt and keep aside.

In a bowl, add melted butter + sugar and beat well till the sugar dissolves. Add oil and mix well. Now add the egg + vanilla extract and beat for a minute, scraping off the sides. Throw in the milk and vinegar and mix.

Add the flour to the wet ingredients and mix well until flour is fully incorporated. Do not over mix. Add hot water to the batter and whisk well again.

Divide it into cupcake pan filled with cupcake lines till 3/4 full.

Bake for 16-18 minutes or until a skewer inserted in the middle of the cupcake comes out clean.

Place it on a wire rack to cool completely before frosting.

WHIPPED CREAM FROSTING

Add gelatin or agar agar to cold water. Place it on the stove and stir till the gelatin dissolves. Keep it aside to cool but don't let it gel. (This step is optional and is used to stabilize the whipped cream).

Add the gelatin + heavy whipping cream + sugar in a bowl and beat it stiff peaks form. Do not overbeat or else the cream will curdle and turn to butter.

ASSEMBLING CUPCAKES

Remove the center of the cupcake with an icing tip or something similar. Fill with cherries. Brush the cupcake with cherry syrup, kirsch or brandy and pipe with whipped cream frosting.

Top with cherries and sprinkle with chocolate shavings.
Recipe Notes
Agar agar is a vegetarian substitute for gelatin.
Whipped cream is unstable and can melt if stored at room temperature for too long. The gelatin stabilizes the cream.
Store the frosted cupcakes in the refrigerator. Place it outside at room temperature atleast 20-30 minutes before serving.